Rancho Mirage, CA
Modular Community
Contemporary Homes located in the heart of Rancho Mirage, CA.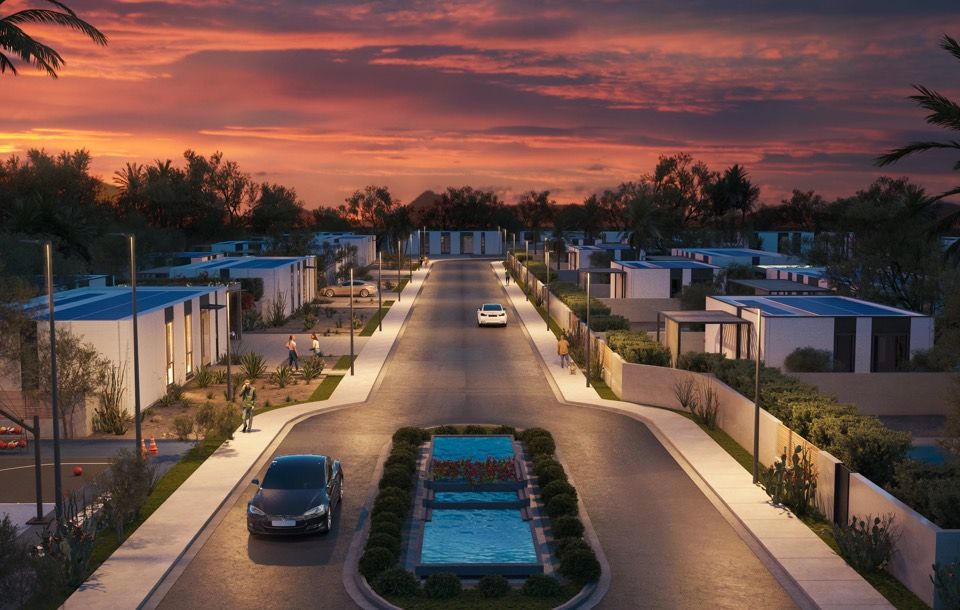 The Palari Group is in development of 30 contemporary homes within an exclusive gated community in Rancho Mirage which is an affluent neighborhood near Palm Springs. The Rancho Mirage homes will have a mid-century modern design and feature several floorplans. Each home will be placed on expansive 10,000 sq foot parcels featuring a swimming pool, cabanas, hot tubs, fire pits and outdoor showers.
The Palari Villas are built with sustainability as its core principle. The homes are 3D printed using the latest in robotics and will feature solar panels, electric car chargers, back-up batteries, gray water filtration and drought tolerant landscaping. Rancho Mirage promises all its residents the perfect combination of luxury with access to some of North America's finest golf, spa, and dining in the heart of the Palm Springs Valley. Rancho Mirage is also home to many international events such as the annual BNP Paribas Tennis Open and many influential individuals have made Rancho Mirage their full-time residence. Residents can move into their Rancho Mirage Palari Villas by Q1, 2023.
Lot prices will be starting at approximately $225,000.
Thinking about a Palari Villa as an investment property?
Purchasing a Palari Villa as a rental property is an excellent way to earn passive income. The home can be rented out on a long-term basis. During inflationary times, real estate is thought of as a great hedge given that home prices tend to keep up with the rising cost of living. Real estate is a way to diversify your portfolio and own tangible assets which are considered safer and more stable in comparison to other asset classes such as stocks and bonds. Your property should pay for itself, provide a passive income stream, and appreciate in value over time.
Professional 3rd party management companies can make sure your property is well maintained and efficiently operated. We can connect you to existing partners who have a successful track record in maximizing revenue for homeowners and will be there every step of the way. Using these 3rd party managers is a great way to ensure that you are not bogged down with management or maintenance issues.