Desert Hot Springs, CA
Modular Community
Modern Homes within a gated community in Desert Hot Springs, CA.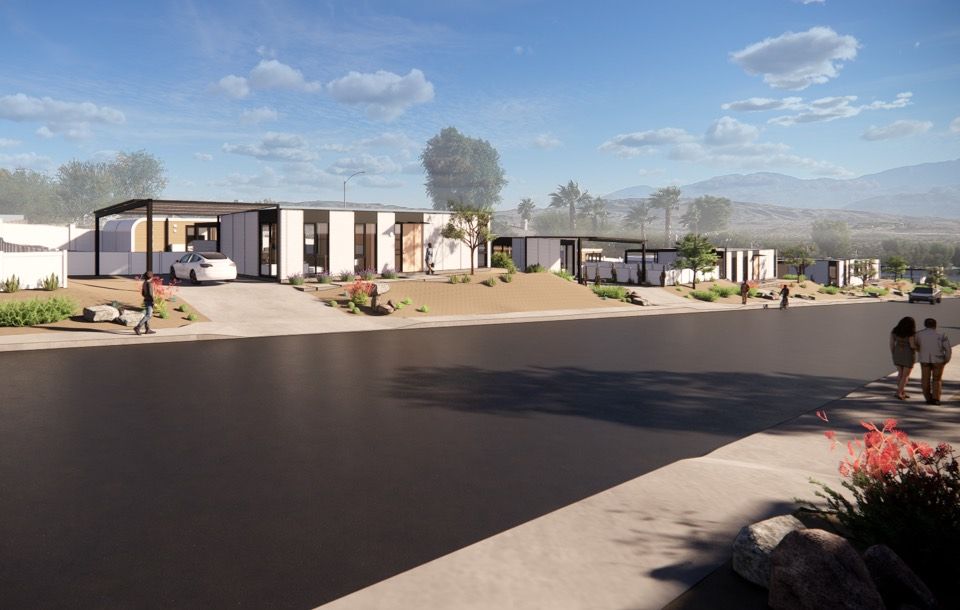 The Palari Group is in development of 77 homes within an exclusive 23-acre gated community in Desert Hot Springs, California. The site of your future home will feature some of the best elevated mountain views in the Palm Springs Valley. Desert Hot Springs is known as the "Spa City" as it is built over one of the world's finest natural hot spring water aquifers. All of the homes being constructed feature mid-century modern architectural design sitting on 9,000- sq.ft. lots with a swimming pool and optional amenities such as cabanas, hot tubs, fire pits and outdoor showers. The Palari Villas are built with sustainability as its core principle. The homes are 3D printed using the latest in robotics and will feature solar panels, electric car chargers, back-up batteries, grey water filtration, and drought tolerant landscaping. Residents can move into their Desert Hot Springs Palari Villas by Q1 of 2023.
Thinking about a Palari Villa as an investment property?
Purchasing a Palari Villa as a rental property is an excellent way to earn passive income. The home can be rented out on either a long-term or short term basis (vacation home), although the latter has several benefits you may not have considered, including the following:
Maximizing Profit – The income generated from a short term rental is generally 2-3X higher than long term rentals.
Easily & Professionally Managed – No effort is required on your end. We have contracts with professional 3rd party management companies that will make sure your property is well maintained and properly managed when you're not using it yourself. We have partnered up with the world's largest vacation rental management company who has a successful track record in maximizing profit for homeowners.
Flexibility Allowing For Personal Use – You can enjoy the home yourself whenever you want! Block off some vacation time with your family or friends and come enjoy!
Minimal Competition – Palari Villas are located in regions which do not allow vacation rentals to exist outside of master-planned communities that specifically allow for such use. This means the pool of competing properties has decreased dramatically.
During inflationary times, real estate has historically been one of the best hedges as home prices tend to keep up with the rising cost of living. Real estate allows you to diversify your portfolio and own tangible assets which are considered safer and more stable in comparison to other asset classes such as stocks and bonds. Vacation rentals can pay for themselves, provide a passive income stream, and appreciate in value over time.
Short-Term Rental Market Data via AirDNA
Desert Hot Springs | 4-Bedroom Comparable Rental Properties | March 2022
Median monthly revenue (total nightly rate + cleaning fees) ranging from $10,550 to $12,733

Average Daily Rate of $518 with occupancy levels above 85%

Desert Hot Springs generated a quarterly rental increase of 15% and received an average Airbnb rating of 4.7 out of 5.0